Hello Music Lovers!  Well, here we are at the end of yet another year, and, in the enduring words of Jerry Garcia, "what a long, strange trip it's been." Before we leave you to enjoy your much-deserved holiday respite before another year of craziness, we've rounded up one last helping of music news. Consider it our gift to you. Today, we have an array of funny videos from music personalities, including Michael Stipe in a final Colbert sketch, Nicki Minaj letting loose on the courts with some old school ballers, and Rich Homie Quan giving his spin on some holiday classics, and 1000 italian Foo Fighters fans who really, really, want Dave and the gang to stop by their city
The Colbert Report
Get More: Colbert Report Full Episodes,The Colbert Report on Facebook,Video Archive
Among the curiosities on the late Colbert Report's trophy shelf was REM frontman Michael Stipe, sitting patiently since his band de-banded a few years back. On Wednesday's penultimate episode, Colbert hosted a yard sale to clear out all the collected clutter, including Stipe. Though the rocker had to be marked down to a quarter, he did eventually sell. [LA Times]
The Colbert Report
Get More: Colbert Report Full Episodes,The Colbert Report on Facebook,Video Archive
On last night's final episode, Stipe, Jeff Tweedy, Randy Newman, Willie Nelson, Peter Frampton, and Cyndi Lauper all harmonized in a touching send-off serenade of Vera Lynn's "We'll Meet Again". Bryan Cranston, Big Bird, President Clinton and George Lucas were just a few of the dozens to make an appearance in the historic show's final moments. [Consequence of Sound]

Vice Noisey put together a truly epic posse for their Hudson Mohawke-produced The Rap Monument. While technically a single track, the forty minute cut that sweeps and morphs to the high-intensity stylings of its 36 featured rappers, is practically an album. Pusha T, Young Thug, YG, Vice Munchies correspondent Action Bronson, Danny Brown, Wu-Tang's Raekwon and Run The Jewels' Killer Mike are just a few of the heavyweights that lend their craft to the project. Check out Noisey for the full list of contributors.
XXL asked Rich Homie Quan to give his unique stylings to some holiday classics, and the "Blah Blah Blah" rapper obliged. Singing in front of a cozy fire and illuminated Christmas tree, Quan serenades us with an a cappella rendition of "Silent Night", before wishing us happy holidays.
And here he sings Rudolph The Red-Nosed Reindeer". Quan's already proven to be big on holidays, making a habit of handing out turkeys to needy families every Thanksgiving. [XXL]
"Unedited Footage of a Bear", the late-night Adult Swim follow-up to the bizarre and viral Too Many Cooks of yestermonth, is significantly more disturbing than it's predecessor. That's thanks in large part to it's claustrophobic and jarring score, composed by experimental electronic musician, Dan Deacon! Deacon also makes a brief cameo in the short. Can you spot him? [Spin]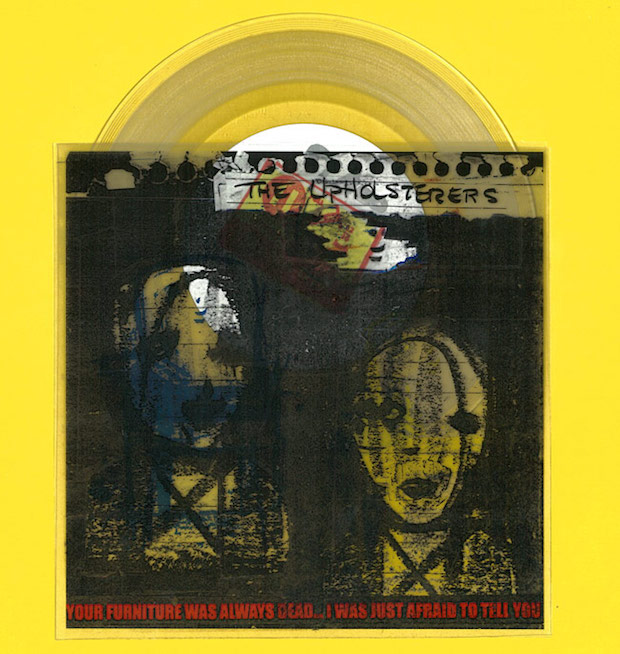 [image credit: Pitchfork]
Back in the late 90s and early oughts, Jack White was working as an upholsterer and had a band with buddy and fellow upholsterer, Brian Muldoon. Together, they called themselves–you guessed it–The Upholsterers. One gimmick they experimented around with was secretly sewing copies of their EP into costumers' furniture. In 2004, after The White Stripes had hit it big, 100 copies of The Upholsterers' single "Your Furniture Was Always Dead… I Was Just Afraid To Tell You" were hidden inside old pieces of furniture, of which only two have been publicly discovered. May the Great Furniture Rip-Up begin! [Pitchfork]

Nicki Minaj made a surprising appearance on the relaxed TBT basketball show Inside The NBA, to promote her latest album, The Pinkprint. Kenny Smith challenges the New Queen Bee, Grant Hill and Shaq (wearing both upper and lower grillz) to a rap battle in this entertaining clip. While Minaj may be the sharpest tongued of the lot, Shaq's marriage proposal & Icy Hot shoutout wins him the round. Maybe its time for a follow-up to 1998's Respect. [Consequence of Sound]
In another music and sports crossover event, Odd Future's Earl Sweatshirt recently interviewed the always fascinating Mike Tyson for Citizens of Humanity. As Pigeons & Planes points out, one particularly enjoyable highlight is Earl explaining to Tyson just exactly what Odd Future does.
1000 Italians in the city of Cesena will be gathering to perform the loudest rendition of Foo Fighters' "Learn to Fly", in hopes of gaining the stadium rockers attention and persuading them to give a concert to their European fans. Consequence of Sound has a video with more of an explanation. The catch: the video is in Italian.
Uh oh, Bobby Shmurda has been indicted for murda, and that nickname isn't going to help him in court so much. The rapper and 'shmoney dance' creator (a favorite for end zone celebrations everywhere) has pleaded not guilty to being involved in multiple shootings over gang-related drug trafficking and turf-wars. [AP]
We are counting down our favorite 50 tracks of 2014 every day in the usual Music Geek Track of the Day slot at 6pm. Today we conclude with our final 10 songs, and you can check out our picks thus far in the Spotify playlist below!
That's all for 2014! See you in the future with more Music Dispatch!